They haven't gone away.

As I mentioned in a previous article, our society C.S.&S.S. first mentioned Murat BLIEV in June 2011. In 2012 when I assisted in the opening of a casino in Switzerland the surveillance department already had instructions to red flag any Russians entering the premises. However, it wasn't until June 2014 that they were first arrested.

How much money had they accumulated during this period and up to today as they go about their business almost unrecognizably? Millions.

So how come they were able to go undetected for so long before they were finally arrested and who takes the credit for that? The first known and well-publicized arrest happened in California USA but it was accountants in a casino in St. Louis who brought attention to this crime and the criminals perpetrating it. 

One can see from the accompanying video that it was also the accounts department in Singapore who discovered that there was an anomaly in the slot machine figures of a jackpot machine. So in both these cases, the accounts department discovered the crime but in almost all cases, the criminals have left the building and the money never returns.

These Russians (Singapore) were first known in our casino security group C.S.&S.S. on 22 Jul 2011, at 14:49:49 and in other security groups.

But it needed the accounts department to discover them after several days in the Singapore casinos?

https://www.mewatch.sg/watch/Crimewatch-2017-E10-Cheating-at-Play-(Finale)-75758?fbclid=IwAR2oKNKyduGUD7r5sfVXgeAhR26D0Md6pBmr1vL5BfHIEPqpEdxCQNi883w

This video (copy and paste into your browser) states that when surveillance was eventually notified they learned that the Russians were during the last two weeks almost every day at the machines, so what happened to the "first line of defense"?

The first line of defense in most casinos outside of the Americas is the reception system which logs and registers every guest, these days taking facial images and scanning identity documents. It is from this registration that the security & surveillance departments should have access to the reception system so that they can check against their watchlists (databases) which contain information about such casino cheats or persons of interest (POIs) as they are known and red-flagged by reception following instructions from S&S .

It is the S&S department's responsibility to then inform the duty manager as to their presence on the gaming floor, management should then take the decision whether to monitor, evict or in cases where a crime can be proven to have them arrested.

This is where it becomes complicated because slot machine hackers, who nowadays can have any number of different nationalities, do not actually physically interfere with the slot machine.

In Singapore, they made the mistake of staying too long in the country, they found a rich cash cow and they wanted to milk it for all it was worth. This gave time for the accounts department to discover the discrepancy in the figures. Like everyone these casino cheats learn from their mistakes, no longer do they hold their cameras up to the screen of the machine or have strange body language which alerts security but the camera is concealed on their bodies and probably they no longer remain at the same casino for days but move on to the next one. We have seen in the following images the ways they can hide the camera,

The shirt button camera here was worn on a card table where the gaming staff could possibly detect it but imagine if it is worn on someone facing a slot machine it is virtually undetectable.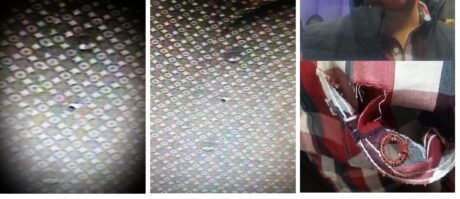 The ripped pocket on the right was detected because of the body language of this slot machine hacker.

The following article tells of a similar slot machine hacking in Switzerland in 2019 and again this year 2021 in Germany some members of the same OCG were arrested in Germany following a year of hacking slot machines with the aid of inside employees who insert a pen drive into the internal USB port in the machine. Again this was not discovered by the casinos themselves but by a centralized government accounts department in Bern. The police investigation and criminal case are ongoing.

It is thought that the casinos could lose out twice as genuine players who lost their money during this time may claim back their losses from the casinos.

So how do we prevent this slot machine "reverse engineering and vulnerability exploration". One way is to know in advance whom these perpetrators are by accessing a database or what is known as a casino's watch-list. "To be forewarned is to be forearmed."